— Kudos to the creatives from your favorite AZ advertising agency  —
There's always newsworthy stories about creativity, but this week's features stood out above the rest. It's quite refreshing to see a great advertisement in a world cluttered with low budget commercials, and ads on social media with blurry pictures and corny captions. But trust us! Not all ads are bad, and hopefully most can provide value to consumers looking for a better quality of life. Take a look at our kudos this week:
Go-Gurt Strikes Gold with Grumpy 4th Graders
What's not to love about this spot for Go-Gurt? They nailed everything! The concept was incredible, noting faults and improvements in their own product, on top of the perfect execution! Brands consistently try to relate with their consumers, and Go-Gurt did just that, connecting with kids across the globe. Kudos Go-Gurt, hopefully we see more of Tim & Charlie in the future.
ESPN Brings Back ESPN8, The Ocho
Remember this "ad"? Well, let's face the facts, ESPN is on the decline. In their most recent move, ESPN has decided to bring back ESPN8, the fictional sports channel portrayed in the movie DodgeBall: A True Underdog Story. When I first saw this, I immediately thought of Heinz's campaign that was first portrayed on Mad Men. Kudos to ESPN for trying something new and out of the box, but we will have to wait and see if it helps in the long-run.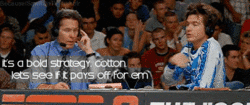 KFC's Original Footage Creates Modern Ads
There's something about mixing the old with the new that makes for great content. In KFC's most recent campaign, they've revisited old ads starring none other than Colonel
Harland David Sanders. Kudos to KFC for trying out a ridiculous number of actors to fill the Colonel's spot and ultimately coming around to the original Colonel himself.
That's it for this week's edition of unWIRED. Let us know what creative work you liked this week by commenting below or tagging us on Twitter (@digitalwire360), we're always game for discussion!